May/June Top Drivers
Levi Strickland, truck # 4631, was named May Driver of the Month at National Carriers, Inc.. A resident of Haughton, LA, he joined the "Elite" fleet in August of 2019. Levi leases his truck through NCI Truck Leasing and operates on the Regional Southwest fleet.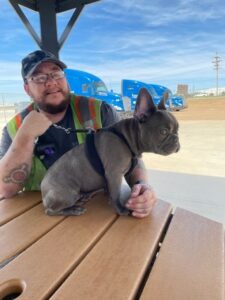 Levi gives credit to his driver manager, "Mike Ritchie takes his time to know his drivers and he has driven over-the-road before. He understands and listens. It is easier for him to relate to a driver's needs and he knows what I face out on the road. He is aware of what is going on, always plans me early, and does anything possible to get me home during the dates I request."
He continued, "I did not appreciate how important having my dog, River, on the truck was until recently. While she was off the road for surgery, I realized how she motivated me to get out of the truck to exercise and socialize. Other drivers ask about River and how National Carriers allow drivers to have a pet onboard. The companionship and security are important benefits of having a dog in the truck."
Company driver, Clarence Banks, truck # 4551 of Fairfield, Alabama was named June Driver of the Month. For the past nine years he has delivered freight throughout the United States on behalf of National Carriers. With an exceptional safety and customer service record he is a great example of an "Elite" driver.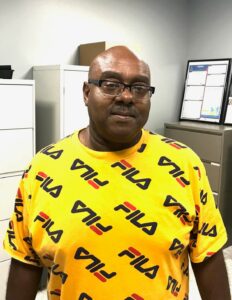 When asked why he continues to drive at National Carriers Banks replied, "There is no need to jump from company to company. Mike Ritchie is my driver manager. I tell him what I need, and he makes it happen. Mike knows I'll go anywhere. Once he gets me a load, I don't bother him, and he doesn't bother me. I like consistency and not change. We are like family; everyone knows each other, and we work well together. NCI has never done me wrong, so we are all good."
Speaking on behalf of National Carriers, Director of Social Media, Ed Kentner elaborated on how Levi and Clarence earned the special recognition.
"Each month we compare individual drivers against other drivers in their division. Management measures the top driver of each division and compares them against each other. We look at everything. A driver's safety record, delivery record, customer service, attitude, appearance, and much more. Cream rises to the top, so it was not a surprise to see Levi and Clarence named as Drivers of the Month. Each driver earned a $1000 bonus with the recognition, they are now finalists for 2023 Driver of the Year and the $10,000 prize that is awarded to the winner," Kentner concluded.
FOR IMMEDIATE RELEASE
National Carriers, Inc. 3925 Carbon Rd, Irving, TX 75038 Contact: Edward Kentner Director of Media Phone: (800) 835-2097 Ext. 6628 Email: e.kentner@nationalcarriers.com Website: www.nationalcarriers.com