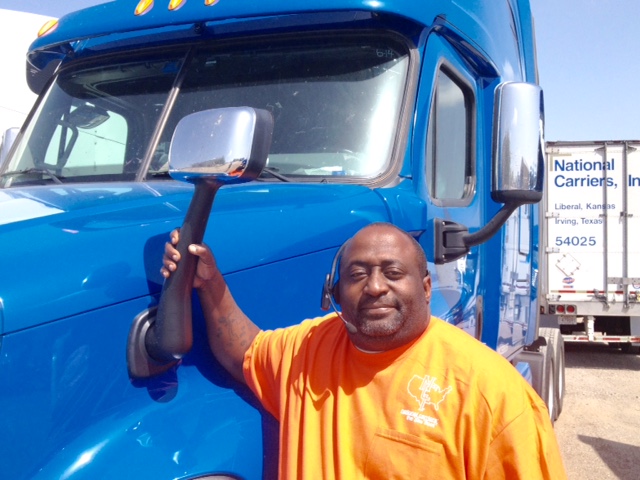 National Carriers Enables Guardsman
     I always wanted to be a business owner and operator. I know about trucking and I've done trucking. I felt NCI Leasing was the best opportunity for me to see how it would be to own my own truck. I have leased truck #2653A since becoming involved in the lease program in December of 2013,"shared Darrell Venable. Before leasing a truck, Venable worked as a NCI company driver. Venable joined the US Marines in 1987 to see the world. He served a four year hitch as a crewman in an Abram M1 battle tank. He completed his obligation and received an honorable discharge in 1991. Twelve years later he joined the Alabama National Guard as a combat medic. He felt he had cheated himself earlier by leaving the military, and thought he could have gone further in his service career. While in the ANG, his unit served in Iraq during 2006 to 2007. His unit served as convoy and base security. Currently, he is assigned to drive a Freightliner 915-A5, equipped with a Detroit engine and automatic transmission. A small area is located behind the seats for limited storage. Venable states, "My home time is my drill time. There are very few loads going directly into Alabama, so NCI sends me to Georgia or Florida. I end up with a slight deadhead, but there is no problem getting me to my unit. My wife would like me to transfer to a company that is closer so I could be at home while attending drill. We have been doing it like this for years, so we are more comfortable than we used to be. I have four more years on my contract and then I will retire from the military."
Since he is involved in the lease purchase program, Venable allocates extra funds when he goes to drill to cover the excess fuel he will need. Trip planning is one key to his success. He considers where he will be going, reviews the total amount of miles, how much driving he will do each day, then thinks through any variables he may encounter, such as traffic or accidents. He feels his military experience has prepared him for success at National Carriers, keeping him disciplined
and goal oriented in accomplishing each task set before him. "I would recommend anyone with military experience to join NCI. After a while, you get a sense of what you will need to do when visiting certain customers. How fast to drive, how much time you will require, how much money you will need. When it comes to buying fuel, know how fuel is needed and allocate only that amount. You will spend less to get to where you've got to go, especially if you have done it before. Soon it becomes repetitive. If you have direction, and if you have purpose, you can focus on your task. You are looking at the prize at the end of your task, not the difficulties at the beginning. By staying focused, you can see what you will accomplish down the road and what you have already accomplished," Venable said.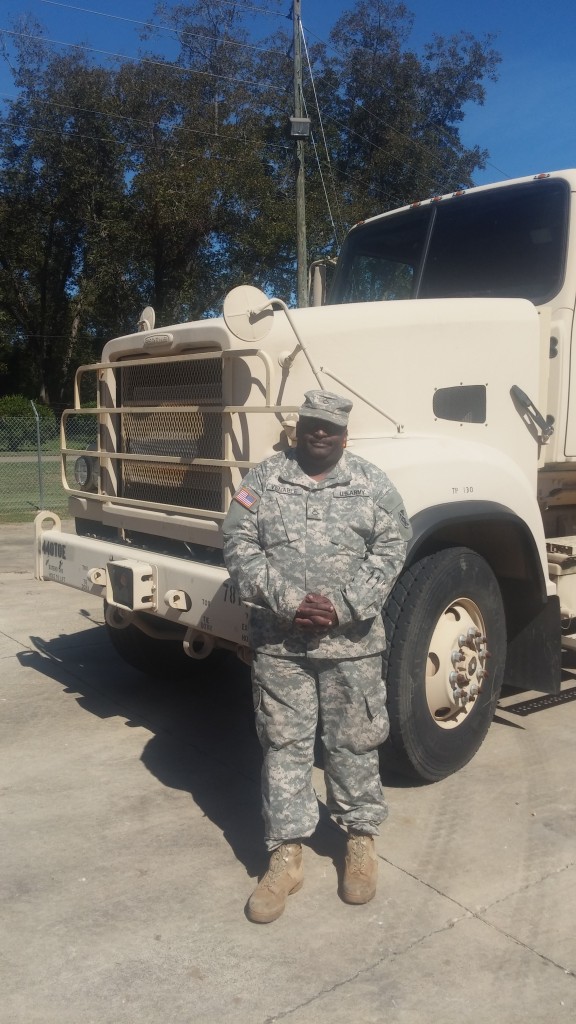 After making a delivery in the Fort Worth, Texas, Darrell's truck was in need of repair.
It was required before he could take his next load which would take him to that months guard duty. Due to unforeseen circumstances, the repairs could not be  completed and his truck had to remain in the shop. Director of Driver Services, Al Love and Kim Obholz, Assistant Director of Leasing worked quickly to secure a round trip flight from DFW International Airport to an airport in Mobile, Alabama. When he landed in Mobile, Darrell was picked up by a soldier in his unit who escorted him to drill. The following Monday, Darrell returned to the NCI terminal in Irving, TX where his truck had been repaired. He stated, "NCI took care of everything, including arrangements and expenses."