National Carriers, Inc. is pleased to announce Robert Walker of Sebring, Florida has been named 2022 Driver of the Year. The recognition was held at the Bob Duncan Center in Arlington, Texas on March 31. The banquet included celebrating the twelve finalists for the award. President Jim Franck presented a $10,000 check to Walker who deliverers freight throughout the lower forty-eight states.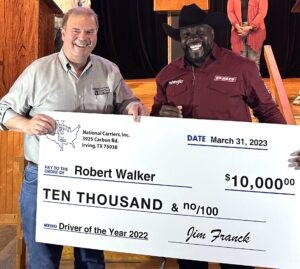 Franck stated. "Another difficult decision, as it is every year. But Robert truly exemplifies the "Elite Fleet" with his can-do attitude, great service, and that ever present quick smile."
Walker also serves as a driver trainer. When asked why he invests his time and talents coaching others his reply was simple, "I enjoy teaching and passing knowledge on to others. I work with approximately twelve new drivers a year. Seeing former students achieve success, such as Andrew Thomasson, is what I drive for, it puts joy in my heart. My motivation is to see students become successful in the transportation industry."
During the banquet, the first Rookie of the Year, Andrew Thomasson of Fort Worth, Texas, was announced. He received the inaugural recognition that included a $1000 bonus. After 20 years in varying industries, Thomasson decided to explore driving opportunities. While attending a CDL school in the Fort Worth area he selected National Carriers for employment due to the paid driver training they offer.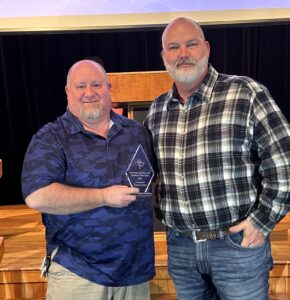 James White, Director of Driver Services shares, "We interview potential candidates to attend our school. I could tell that Andrew had the motivation to be a driver. He graduated at the top of his class with his CDL in hand. Once OTR training was completed he upgraded from student to solo driver. He prides himself on being on time. After a year of driving Andrew has become a trainer. In the Rookie of the Year selection, we look at service failures, miles, safety, attitude, payroll, understanding of his job, our policies and procedures. He surpassed all expectations and that is why he was named Rookie of the Year for 2022.
About National Carriers
National Carriers offers refrigerated services throughout the lower 48 states and provides regional livestock operations within Nebraska, Kansas, Colorado, Oklahoma, Texas, and New Mexico. Founded in 1968, the company has been a longtime leader in customer service and driver satisfaction.